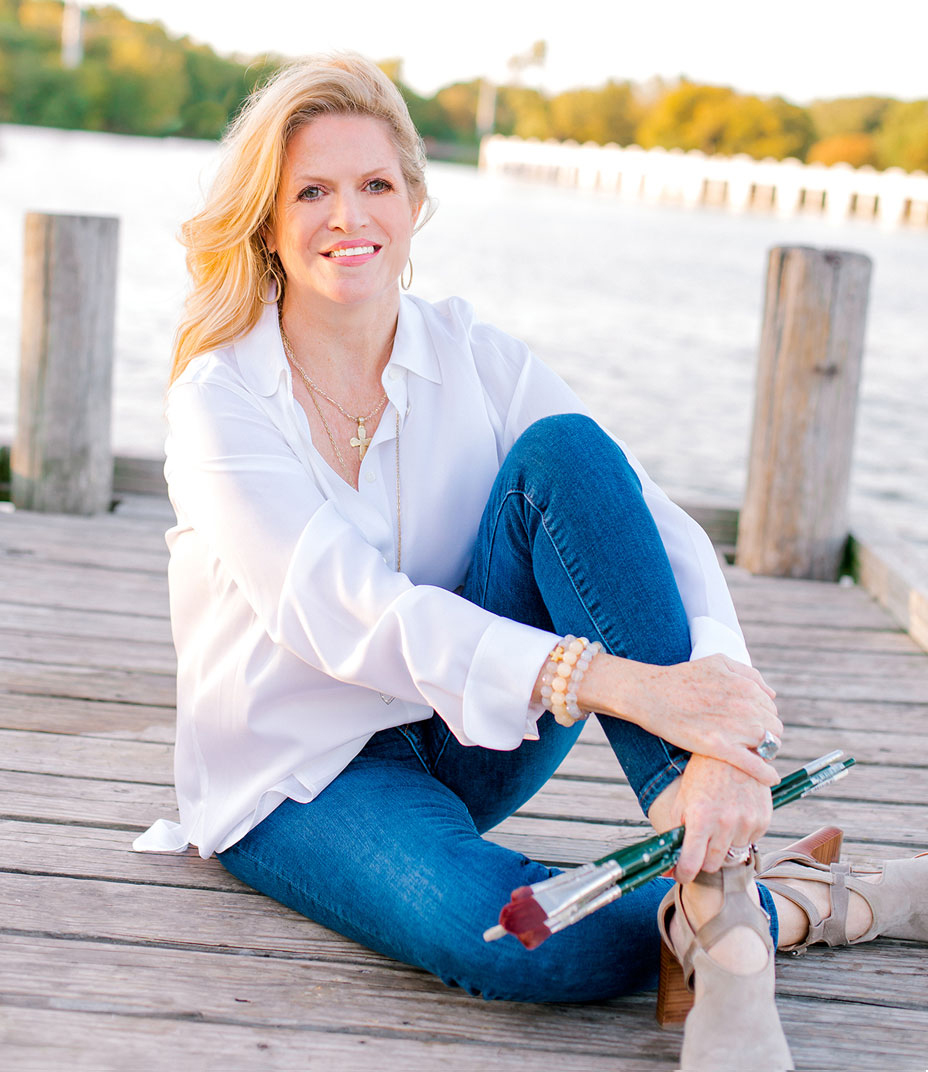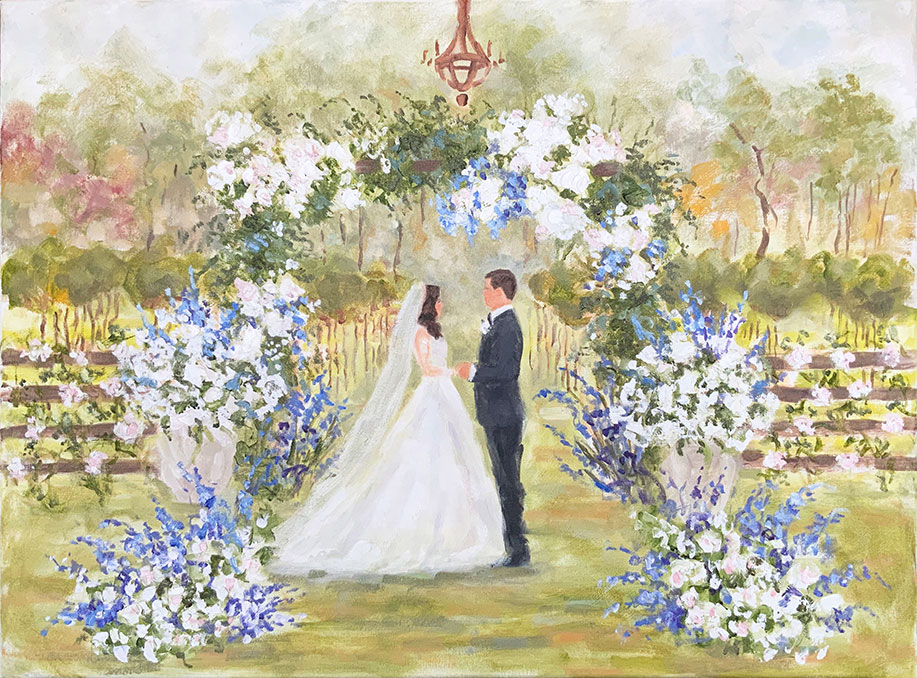 Natalie and JR
Family Vineyard, Richmond, Texas
18"x24" oil on canvas



Natalie and Andrew (detail)
The Corinthian, Houston
24"x36" oil on canvas

Sabrina and Victor
Texas Discovery Gardens
22"x28" oil on canvas

Ciara and Huntington
Arlington Hall
30"x30" oil on canvas

Blair and Connor
Vinyards at Chappel Lodge, Austin
18"x24", Oil on canvas

Britanny and Blake
Amerigo, Houston
18"x24", Oil on canvas

Genna and Garret
HighPoint Estate
18"x24" oil on canvas

Rosemary and Sri
The Olana
18"x24" oil on canvas

Katherine and Cameron
Lakeside Country Club, Houston
30"x40", oil on canvas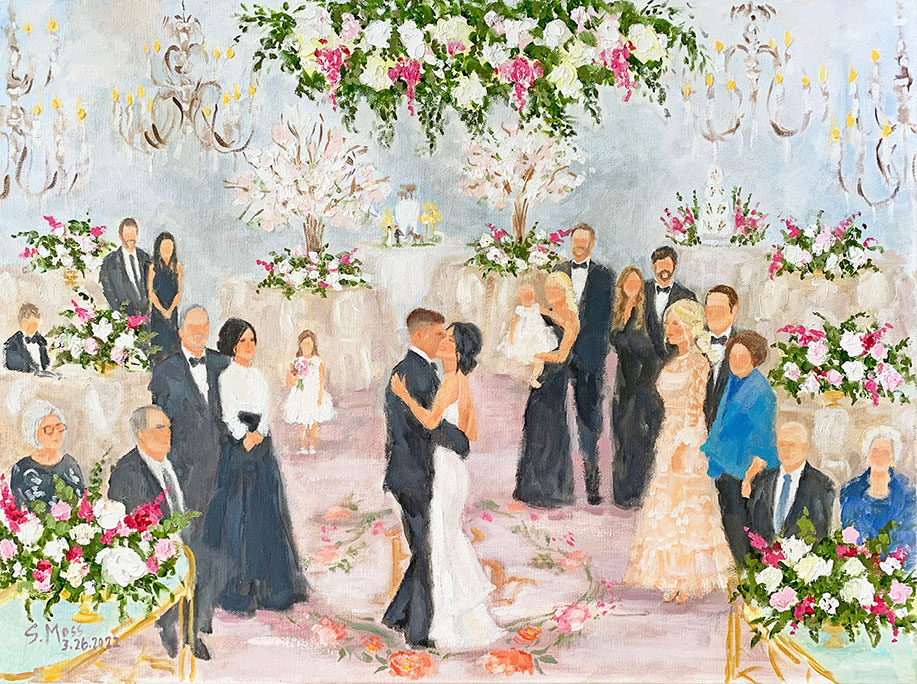 Baleigh and Luke
Boxwood Manor
18"x24" oil on canvas

Laurel and Rhett
Hall of State
18"x24" oil on canvas




Hallie and Q
The Joule
18"x24" oil on canvas

Meg and Mark
Dallas Arboretum Camp House
18"x24" Oil on Canvas

Madison and Jaden
Morgan Creek Barn
20"x24" oil on canvas

Ashley and Patrick
Crescent Court, Dallas
18"x24" oil on canvas



Laura and Alex
Nasher Sculpture Center
18"x24" oil on canvas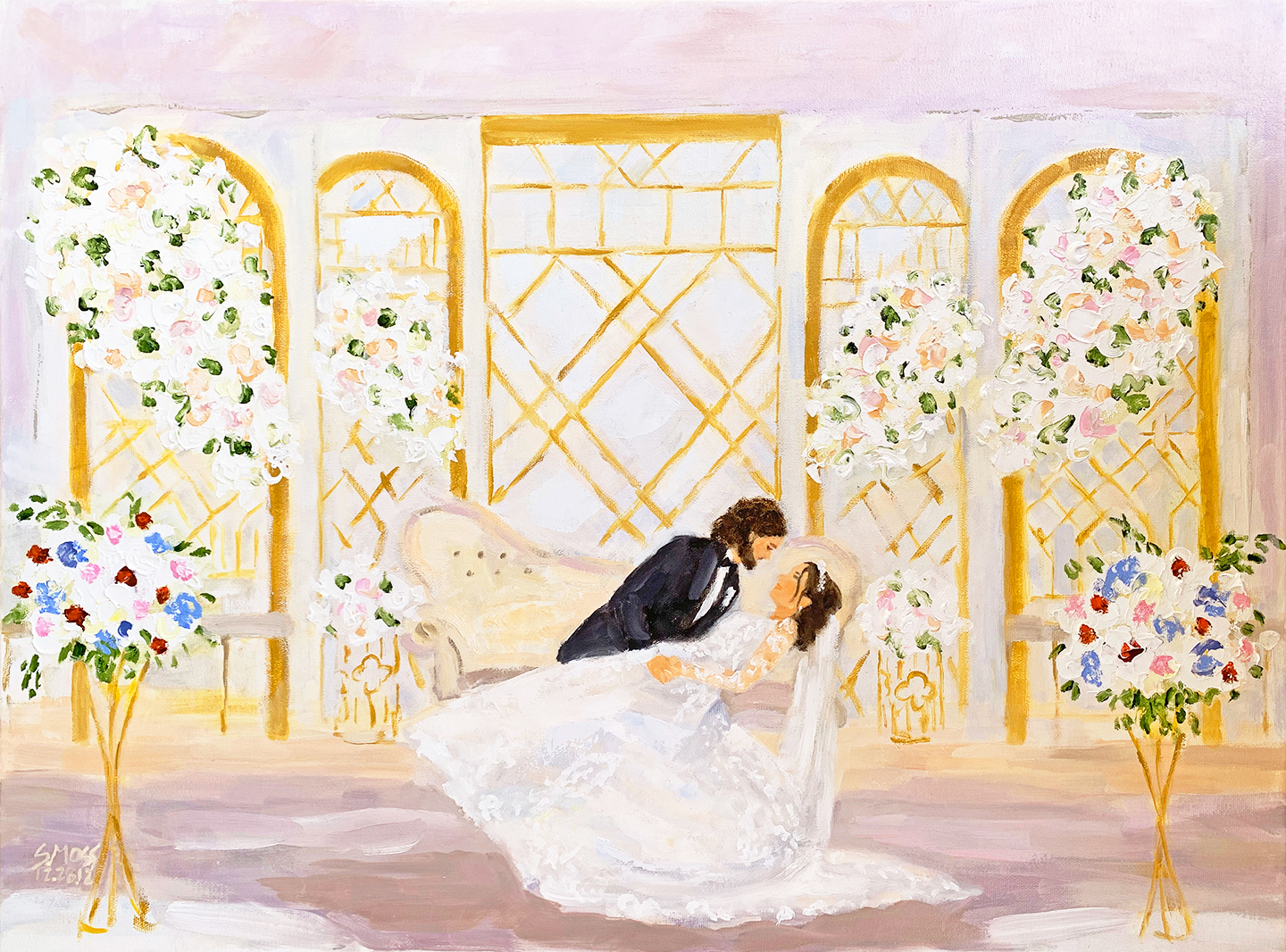 Nadine and Nadim
18x24 oil on canvas

Savannah and Connor
The Joule
18x24 oil on canvas

Note Cards Made From Painting
Nathalie and Justin
The Corinthian, Houston
Original Painting 18"x18" oil on Gallery Wrap Canvas


All of these were painted 'live' the night of the reception, with no studio work. EXCEPT for one that is finished - can you guess which one??

Victoria and Will
Dallas Arboretum Camp House
18"x24" oil on canvas

Kendall and Joey
Commodore Perry Estate. Austin
24"x24" oil on gallery wrap canvas

Amanda and Sam
Ranch Wedding
24"x30" oil on canvas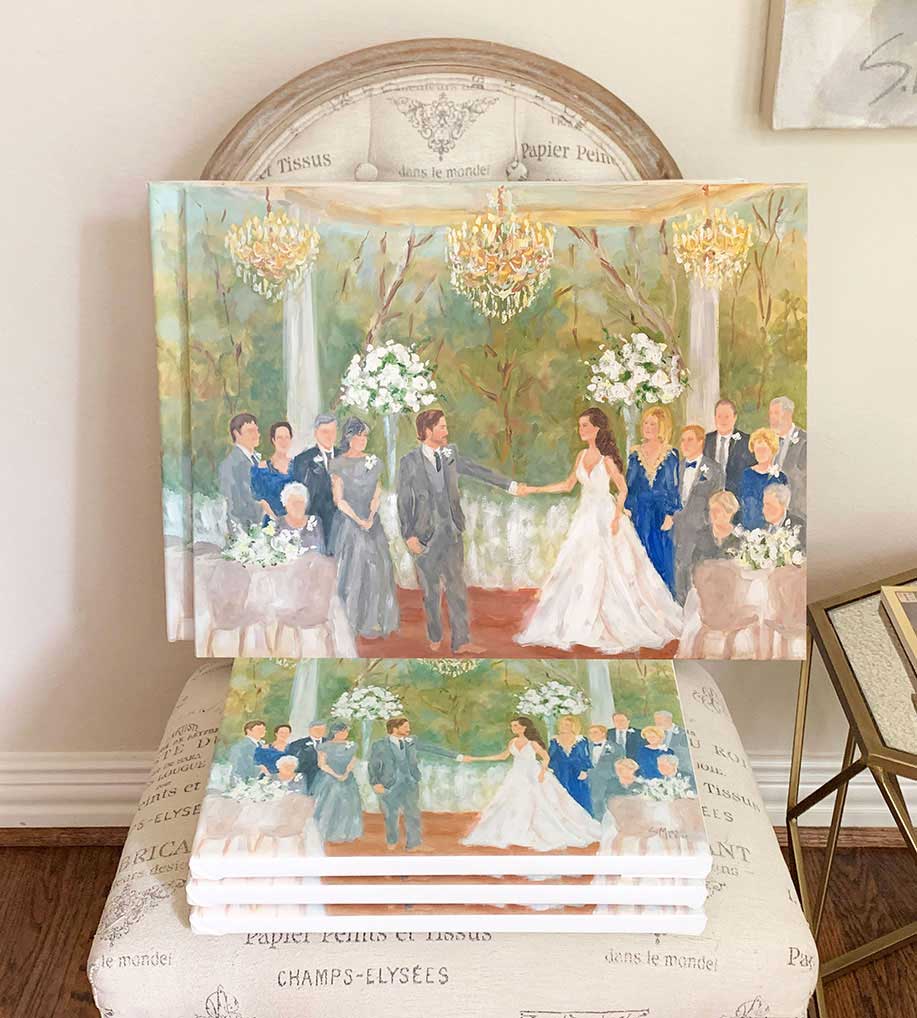 Stephanie and Brandon
Ashton Gardens
Prints from painting

Mackenzie and Jonathan
Clubs at Houston Oaks
24"x24" oil on gallery wrap canvas

Natalie and Vincent
The Astorian, Houston
18"x24" oil on canvas

Margaret and Doug
Hotel Drover, Fort Worth
22"x28" oil on canvas

Audrianna and Hunter
Fort Worth Club
20"x24" oil on canvas

Veronica and Scott
Junior League of Houston
16"x20" oil on canvas

Stephanie and George
Dallas Country Club
18"x18" oil on gallery wrap canvas

Connie and Nick
Union Station, Dallas
18"x24" oil on canvas

Bianca and Richard
St. Paul's United Methodist Church, Houston
20"x24" oil on canvas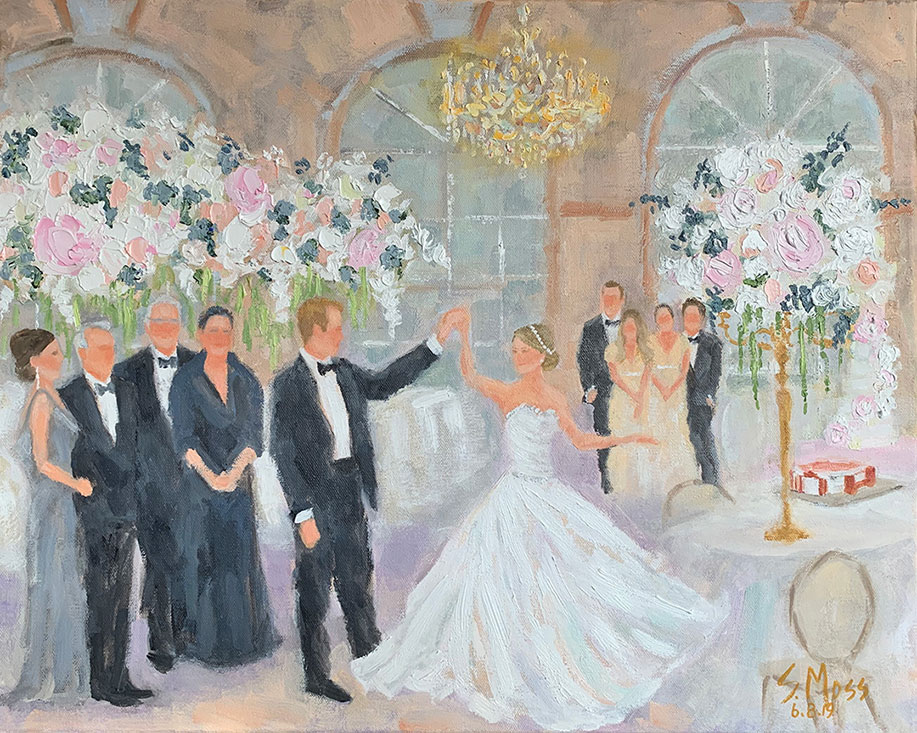 Emma and Stewart
Adolphus Hotel, Dallas
16"x20" oil on canvas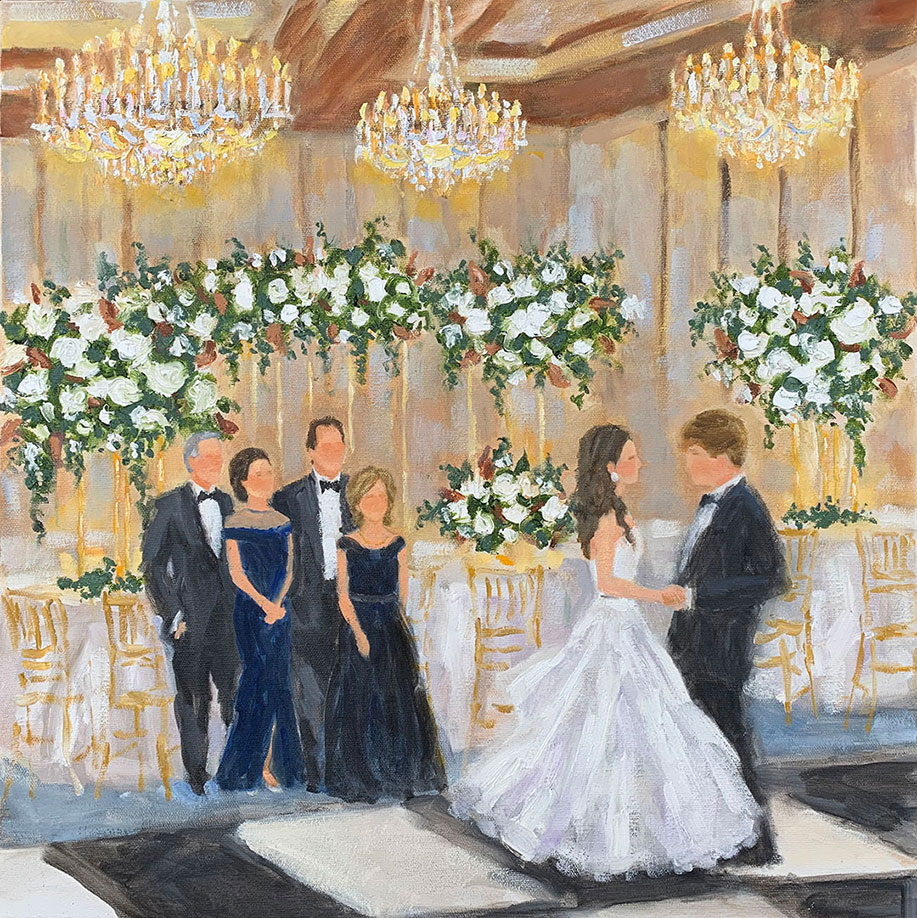 Mary Grace and Nicholas
Dallas Country Club
18"x18" oil on gallery wrap canvas

Karly and Michael
Ritz Carlton, Dallas
24"x24" oil on gallery wrap canvas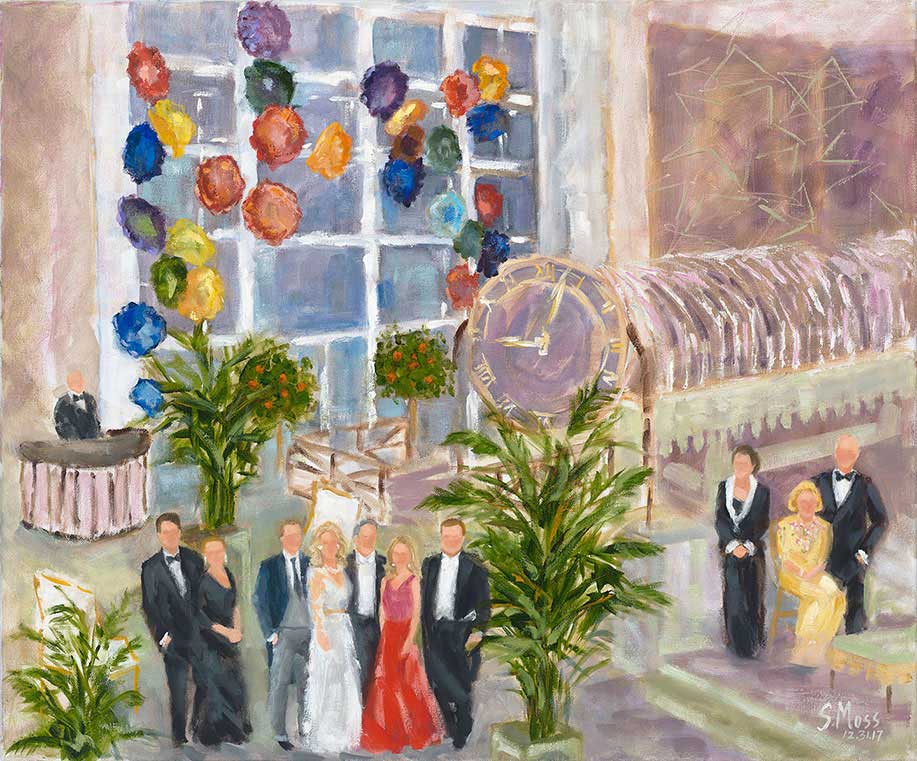 M. Perot's Debutante Ball
Dallas Museum of Art
20"x24" oil on canvas


Sage and Kyle
Four Seasons, Las Colinas
20"x24" oil on canvas

Natalie and Daniel
Austin Country Club
16"x20" oil on canvas

Elyssa and Nick
Blithewold Mansion, RI
18"x24" oil on canvas

Emily and Kane
Ranch Wedding
24"x36" oil on canvas

Sara and Garrett
Houston Country Club
18"x24" oil on canvas

Canon and Tate Sawyer
The Modern, Fort Worth
18"x24" oil on canvas

Alex and Megan
Cohen House, Rice University
16"x20" oil on canvas

Morgan and Walker (detail)
Bayou Club, Houston
22"x28" oil on canvas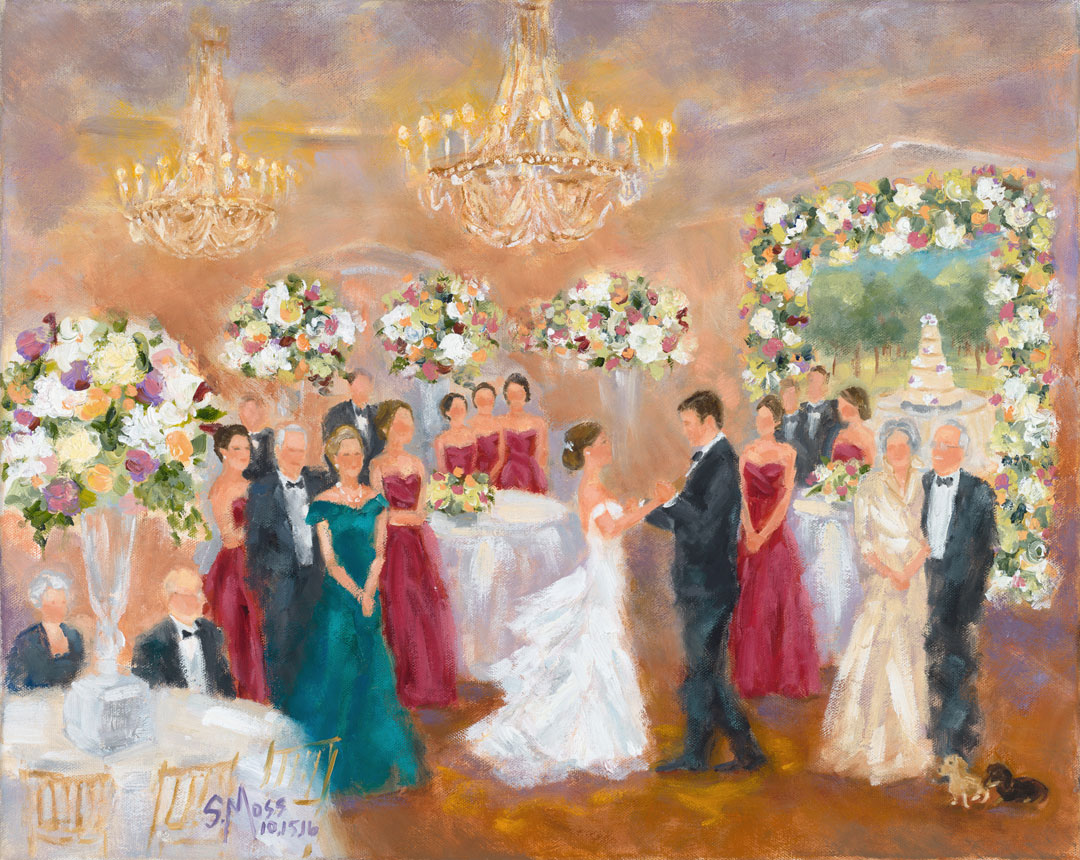 Lizzie and Joe
Brookhollow Golf Club, Dallas
16"x20" oil on canvas

Modern Luxury Wedding Event
Marie Gabrielle, Dallas
16"x20" oil on canvas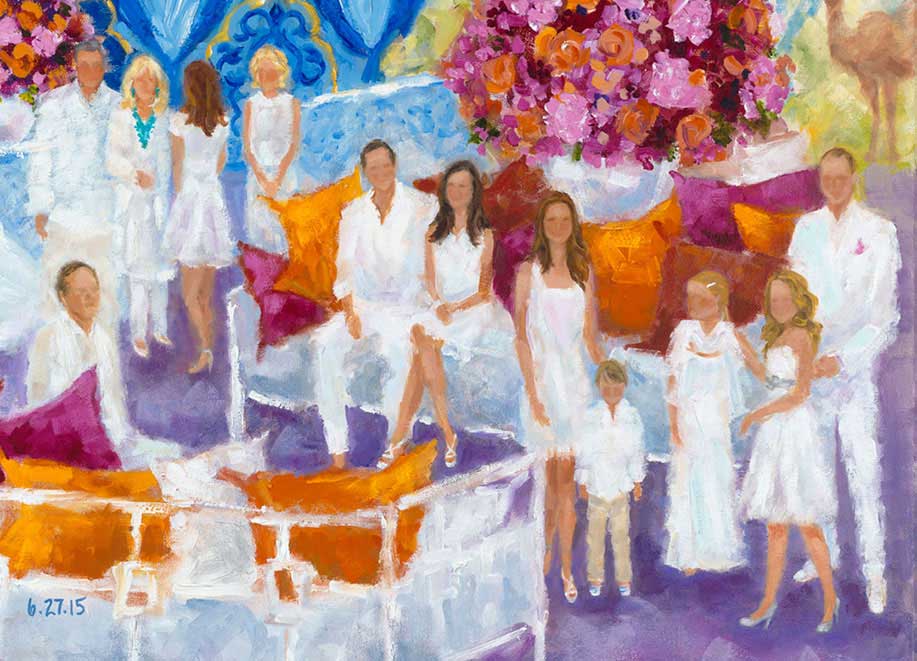 Elisa Summers Birthday Party (detail)
Highland Park Home
24"x24" oil on gallery wrap canvas
Live Event Painting, Dallas Texas
I am based in Dallas, Texas but have traveled all over, painting wedding ceremonies, receptions and other events. When I began painting 'live events' 11 years ago, I discovered that creating art on-site becomes a shared experience that adds to and enriches an already special celebration. I'm hopeful that live event painting becomes an American tradition and not just a trend as I love the idea of incorporating fine art into our every day lives, similar to Degas and Manet who offered a glimpse into the lives of the average Parisian in the 19th century.
Europeans have been documenting important events with paintings for hundreds of years, including weddings. They call it 'Wedding Portraiture'. Many European wedding portraits were painted on-site and finished in studios. Art historian, Amanda Severn has collected a handful of beautiful examples of early wedding paintings in Europe, here. Strangely enough, she says that tradition has gone by the wayside in Europe, while in America, 'Live Event Wedding Painting' or 'Live Event Painting', has exploded. Today, Americans can choose from a variety of artists, styles and price points, so I recommend finding one that speaks to you.

Live Event Painting offers a unique and beautiful way to capture special occasions such as weddings, receptions, birthday parties and corporate events. Having an artist at your event adds an elegance to your soirée that will leave your guests swooning. I still have many people at each event say they have never heard of this idea and they LOVE it! In addition, you receive a beautiful contemporary impressionist oil painting to treasure for years to come.
What is My Process?
Before a live event painting commission, I discuss with my client the 'scene' they would like painted, as well as key people they would like to include. I arrive at the event early to set up and begin blocking in architectural and design elements, including floral. As guests begin to arrive, I start adding in figures. I paint throughout the evening and take photographs as well, so that I can get a good likeness for the figures in my studio.
I use oil paints as opposed to acrylic or watercolor. Other than tempera or fresco, oil is the oldest, most traditional medium of painting and allows for an exquisite, textured finish. Oil paintings take several days to dry and achieve the most stunning results when applied in layers. In my studio, the first layer from your event will dry and I will add several additional layers before it is finished. The first layer painted at your event is beautiful, loose and painterly, covering the entire canvas and could be a finished piece on its own.
Who you decide to include in your painting is completely up to you, but some suggestions are both sets of parents, grandparents, siblings, children in the wedding and some or all members of the wedding party. Many brides are keeping it simple and just including parents and siblings or even just a beautiful portrait of the bride and groom.
I am always open to new ideas, so please don't hesitate to talk with me about doing something different with your painting. It could be a beautiful impressionist painting of a floral installation, arrangement or bouquet, or a still-life painting of an exquisite table setting at your reception, or even something that your guests can be involved with, such as quick-sketch portraits (not to be confused with caricature illustrations). When incorporating art into your celebration, the sky is the limit!
---
Live Event Painting Details and Pricing
Starts at $2350. for 18" x 24" oil painting.
Click here for additional pricing.
Please call or email to check availability.
Square shapes and gallery wrapped canvases are also available.
Includes:
- Original oil painting on 100% cotton canvas
- Pre-event meeting or phone consultation
- 5 hours attendance and live painting at your event
- 6 hours studio time for additional layers, polishing and finalization
- Travel costs within 30 miles of Dallas, Texas
- Shipping and insurance are included, if outside of D/FW area
I request a 50% deposit to book your date. The balance is due one week before the event.
I am located in Dallas, Texas however, depending on the date, I may be available to travel. Travel expenses are additional to the package price and may include round-trip airfare from Dallas/Ft. Worth, rental car, and 2 night hotel accommodations.
Paintings from Photographs
If the date of your event has already passed, I can work from your photos. Click here for pricing. I'm happy to search through your photographer's link to help you find the photos that would make the best painting. Call or email me to discuss.
---
Notecards and Giclée's available
Once complete, you may choose to have notecards, archival quality canvas or paper prints made from your painting. Click here for pricing.
---
Contact me at susan@eventpaintings.com or 214 616 6804 for more information or to schedule your event.
To see more event paintings by Susan Moss Cooper, click here.
Links
Oil Painters of America
American Impressionist Society
Outdoor Painters Society
Daily Painters of Texas
National League of American Pen Women